Investor Education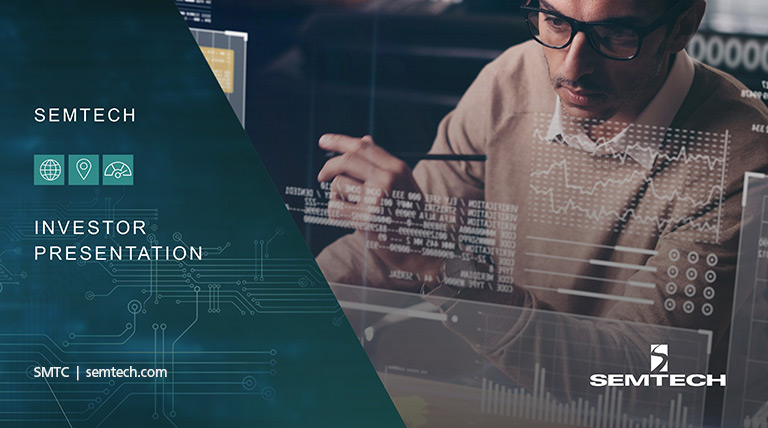 Semtech is a leading global supplier of analog and mixed signal semiconductor products and advanced algorithms for infrastructure, high-end consumer and industrial equipment. Semtech products are used in a wide variety of communication, computer and industrial applications. Customers include original equipment manufacturers and their suppliers, including Alphabet Inc., Cisco Systems, Inc., Huawei Technologies Co., Ltd., LG Electronics, Sharp Corporation, Itron, Inc., Sonova International, Samsung Electronics Co. Ltd., and ZTE Corporation. Headquartered in Camarillo, California, Semtech operates 32 locations worldwide and employs a diverse workforce.
Semtech remains focused on four key factors: differentiation, balance, financial strength, and multiple sources of growth. Our differentiators are process technology, design, packaging, and support. With over 1,000 products and nearly 5,000 customers across multiple end-markets and geographies, Semtech"s business is both diversified and balanced. Our financial strength is reflected in a strong balance sheet and proven ability to generate cash flow. Semtech is positioned to benefit from the three trends expected to drive growth in the analog space for years to come: Internet of Things (IoT), miniaturization and mobilization of electronic devices and bandwidth demand.
Semtech is a people intensive company, not a capital intensive one. Strategic emphasis is placed on design and applications talent needed to develop leading edge, proprietary products. Most of our manufacturing is outsourced to third party wafer foundries and sub-contractors. Semtech has sales, design and applications locations throughout the United States, United Kingdom, France, Germany, Switzerland, Taiwan, Korea, Japan, and China. Semtech was incorporated in 1960 and went public in 1967. Initially serving military and aerospace markets, Semtech transitioned to the commercial marketplace in the early 1990s.
Why Analog and Mixed-Signal? - As digital advancements drive demand for electronics, analog and mixed-signal ICs are designed to bridge the gap between digital circuits. While digital semiconductor suppliers tend to rely heavily on process technology to remain competitive, analog and mixed-signal are more reliant on design and applications. The analog and mixed-signal semiconductor industry has several unique characteristics including fragmented end-markets, longer product lifecycles and less capital requirements.
Strategic Acquisitions - Semtech acquired the semiconductor division of Lamda Electronics in 1990. Since then, Semtech has experienced tremendous growth through the strategic acquisitions of ECI Semiconductor, Acapella Limited, XEMICS SA, Sierra Monolithics (SMI), Gennum Corporation, and AptoVision, to name a few. These acquisitions have not only strengthened Semtech's product portfolio and disruptive technology, but also contribute to Semtech's overall revenue stream today.