Investor Relations
Investor Relations
Semtech is a leading global supplier of analog and mixed signal semiconductor products and advanced algorithms for high-end consumer, industrial, enterprise computing, and communications end-markets. Our highly differentiated technology platforms enable today's innovative electronics, pushing the boundaries of intelligence, bandwidth, connectivity, and mobility to address some of the fastest growing markets. We were incorporated in Delaware in 1960 and publicly traded since 1967 (Nasdaq: SMTC).
Change
Volume
52 Week High
52 Week Low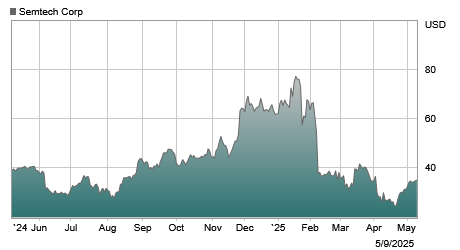 Copyright Nasdaq. Minimum 15 minutes delayed.
Semtech capitalizes on industry trends that are expected to be significant for our growth, such as IoT for a smarter planet, more bandwidth over high-speed networks and smaller, highly-integrated system requirements for greater mobility. The resulting product platforms are some of the most innovative and widely used technologies in the markets we serve. We are known for bringing value to our customers beginning with our new product definitions to implementing and integrating our products into their systems.
FISCAL YEAR
2018
NET SALES
$550M
GROSS MARGIN
60.4%
OPERATING MARGIN
22.6%
OPERATING CASH FLOW
$117.6M
* NON-GAAP, see reconciliation to the most comparable GAAP measures filed with the SEC.
Investor Events
Mar 14, 2018
Jan 17, 2018
Nov 29, 2017
Aug 30, 2017
Jun 7, 2017
View All Events »
Growth Drivers
LoRa®
LoRa Technology is becoming the de facto global standard used to for our smart planet. Read more »
Signal Integrity
Insatiable demand for higher bandwidth, benefits our Signal Integrity platform for connecting users to content stored in the data centers and the Cloud.  Read more »
Circuit Protection
Increasing mobility requirements, heightens the need for high performance, energy-efficient circuit protection. Read more  ».